About Freshwater Striped Bass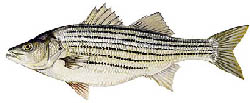 Striped Bass.
Link to larger image
Hybrid Striped Bass.
Link to larger image
Striped bass breed in freshwater and spend their adult lives in saltwater. However in 1941 striped bass were accidentally landlocked in the process of building the Santee Cooper reservoir in South Carolina.
It was discovered that the striped bass could thrive in freshwater reservoirs that stay cool in summer, contain enough oxygen, and have adequate forage; in particular a large population of threadfin shad. Since then, striped bass have been successfully stocked in numerous reservoirs across the central part of the United States.
Striped bass do not tolerate water temperatures above 80° F.
Striped bass have been mated with white bass to produce hybrids sometimes called "Sunshine Bass", or "Wipers." Hybrid stripers are more tolerant of higher water temperatures and can survive in more southern climates. You can now find hybrid stripers in 29 states.
Landlocked striped bass succeed in breeding only in situations where there are rivers long enough and with sufficient flow to keep the eggs suspended until they hatch (about 2 days). Most freshwater and hybrid striped bass fisheries are maintained by state supported stocking programs.
Stripers will grow to a weight of 50+ pounds in freshwater. Hybrid stripers have a wider body and rarely exceed 20 pounds.
The world record freshwater striped bass weighed 69 pounds 9 ounces. Follow this link to see the World Record Freshwater Striped Bass.
The world record hybrid striped bass weighed 27 pounds 5 ounces. It was caught by Jerald C. Shaum in Greers Ferry Lake, Arkansas on April 24th, 1997.
Lakes containing large populations of freshwater striped bass in the eastern United States include: Lake Cumberland in Kentucky, Boone Lake in Tennessee, Lake Lanier in Georgia, Santee Cooper in South Carolina, Lake Naomi in North Carolina, and Smith Mountain Lake in Virginia. In New Jersey, Spruce Run Reservoir, Manasquan Reservoir, and Lake Hopatcong all contain significant populations of hybrid striped bass.
To find out how striped bass got to be in California freshwater lakes follow this link: California Striped Bass.
---