Everyone wants to know what the record is, for the species of fish for which they are fishing. We will show you.
However, we support a catch and release policy for striped bass, especially the larger ones. Female striped bass grow larger than the males If you catch a striped bass over 20 pounds it is probably a female, with the potential for producing up to three million eggs each spring. Don't take her out of circulation. Take a picture, and gently release her. Let your photograph be your trophy.
---
World Record Striped Bass
The new world-record striped bass was caught on the night of August 4, 2011 in Connecticut waters. The striper was boated by Greg Myerson and weighed in at 81.88 pounds, which edges out the previous record of 78.8 pounds caught in 1982.
Myerson caught his huge striper drifting a live eel by a submerged boulder, near the Outer Southwest Reef off the coast of Westbrook, Connecticut. His striper measured 54 inches in length.
Greg Myerson's striper was approved by the International Game Fish Association on Wednesday October 19th, and becomes the new the world record striped bass at 81 pounds, 14 ounces.
Greg Myerson said he's sorry to take the striped bass world-record from Atlantic City, but he is happy to have it in Westbrook, Connecticut.
To see how Greg Myerson catches such big striped bass, follow this link:
Greg's Big Stripers
---
Previous World Record Striped Bass
Al McReynolds
The previous world record striped bass was caught off the Vermont Ave. Jetty in Atlantic City, during a storm on Sept. 21, 1982 by Albert McReynolds. It was caught on a 5 ½ inch black-back silver Rebel plug. It weighed 78 pounds 8 ounces, and had a length of 53 inches. This fish was estimated to be about 36 years old.
Although the striper was hooked while fishing from the jetty, Al somehow scrambled off the jetty and landed the fish on the beach to the side of the jetty. The Vermont Ave. Jetty is relatively short.
Link to photos of the: Vermont Ave Jetty.
Al and his previous world record striped bass are shown at the right.
To see the third largest striped bass ever caught on rod and reel follow this link: Peter Vican
To see a photo of the mount of Albert McReynolds world record striped bass follow this link: World Record Striper Mount
92 Pound Striped Bass
There has been only one striped bass caught and verified that exceeded Greg Myerson's 81 pound world record. This fish weighed 92 pounds, and is shown at the right. This fish now hangs on the wall of the Maryland Department of Natural Resources in Annapolis Maryland.
This 92 pound striper did not become the new IGFA record because it was caught in a net by the Maryland DNR during a research project in 1995.
Link to other image of: 92 Pound Striper
87 Pound Striped Bass
87 Pound Striped Bass
Could the world record striped bass be this 87 pound striped bass caught in California in 1912? Follow this link to see about this: 87 Pound Striper.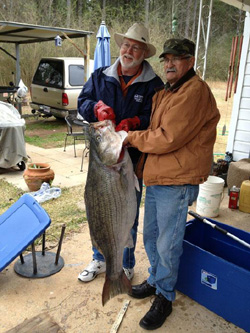 James Bramlett's Striper
World Record Freshwater Striped Bass
On February 28th, 2013 James R. Bramlett (on the right) caught a 69 pound 9 ounce pound landlocked striped bass that became the new world record freshwater striped bass.
James caught his big striper in the Upper Blackhead Reservoir, which is an impoundment of the Black Warrior River in north-central Alabama. The fish had a girth of 37.75 inches and was 45.5 inches long. He caught it on a 10 inch gizzard shad.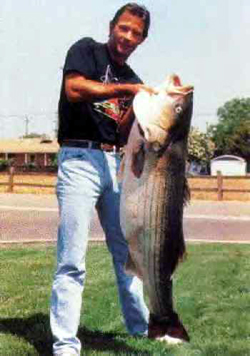 Hank Ferguson
Previous World Record Freshwater Striped Bass
The previous world record freshwater striped bass was caught by Hank Ferguson in O'Neill Forebay, San Luis California, on May 7, 1992. It weighed 67 pounds 8 ounces.
O'Neill Forebay is a 2250 acre freshwater reservoir in Merced County, that is part of the California Aqueduct System.
To find out how striped bass got to be in the California Aqueduct System follow this link: California Striped Bass.
Jerald Shaum
World Record Hybrid Striped Bass
The world record hybrid striped bass was caught by Jerald C. Shaum in Greers Ferry Lake, Arkansas on April 24th, 1997. It weighed 27 pounds 5 ounces.
Richie Keatley
World Record Striper Caught on a Fly Rod
On December 17th, 2009 Richie Keatley of Norfolk VA caught a 51 pound, 5 ounce striped bass on a fly rod while fishing around the piers of the Chesapeake Bay Bridge Tunnel. He caught the striper on a blue-tinted 3/0 clouser fly while fishing from a 22 foot boat. His striped bass is a IGFA world record for the 20-pound tippet Male Fly Rod Class.
Striped Bass - Junior Female World Record
Juliana Merighi
In October 2010, Juliana Merighi caughtthis 58.29 pound striped bass in Delaware Bay. The bass has since been certified as a Junior Female World Record. The bass was 54 inches long and had a girth 0f 32 inches.
World Record Bluefish
The world record bluefish was caught by James M. Hussey on Jan. 30, 1972 at Hatteras, North Carolina. It weighed
31 pounds, 12 ounces.
Link to larger images: Bluefish
World Record Weakfish
Om May 7, 2008 at at 2:30 AM, David Alu of Jackson NJ, caught a 19 pound 12 ounce weakfish while surf fishing for striped bass on the shores of Raritan Bay. He caught it on a bunker head. The weakfish was 37 inches long and had a girth of 23 inches.
This weakfish is a IGFA world record. David was guided in his efforts by Rich Swisstack, of the Shore Catch Guide Service.
David Alu is at the right in the photo.
Link to larger image: Weakfish
World Record Fluke
Capt. Nappi's Fluke
The world record fluke weighed 22 pounds and 7 ounces. It was caught on September 15th, 1975 by Capt. Charles Nappi in waters off of Montauk N.Y. He caught his big striper using a snapper bluefish for bait.
World Record Tautog
Kenneth Westfeld's Tautog
On Friday, January 2 2015, Kenneth Westerfeld caught a 28 pound, 13 ounce Tautog (Blackfish) fishing out of Ocean City, MD. The fish was 35 inches in length. On May 5th 2015 it was confirmed, and became the new world record. The previous record Tautog weighed 25 pounds and was caught in 1998 by Anthony Monica, fishing out of Ocean City NJ.
World Record Largemouth Bass
George Perry
George W. Perry holds the world record for catching the the largest Largemouth Bass. George caught his record bass on June 2, 1932 in Lake Montgomery, Telfar County Georgia. His bass weighed
22 pounds and 4 ounces. He caught it on a Fintail Shiner plug made by the Creek Chub Co.
World Record Largemouth Bass - Tie
On July 2nd, 2009 Manabu Kurita caught the 22 pound, 5 ounce Largemouth Bass, shown above, in Lake Biwa in Japan. The bass measured 29 inches in length. It was caught on a live bluegill. This bass weighs one ounce more than the existing world record. Photo courtesy of Manabu Kurita.
Because Kurita's bass did not beat the existing world record by at least 2 ounces it does not become a new world record, but is considered tying the record.
To see more about largemouth bass follow this link: Largemouth Bass
World Record Smallmouth Bass
David Hayes
The world record Smallmouth Bass was caught by David Lee Hayes on July 9th, 1955.
David's huge bass weighed 11 pounds 15 ounces. He caught it in Dale Hollow Lake in Kentucky state waters, while trolling a 600 Series Pearl Bomber Diving Plug.
---
---