Berkley Gulp Baitfish Imitations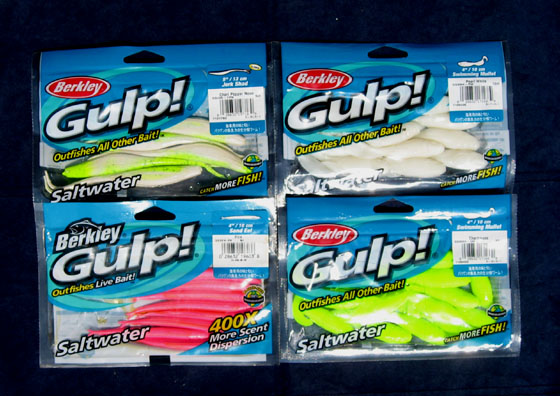 Examples of Berkley Gulp baitfish imitations are shown above. Shown are Jerk Shad, Sand Eels and Swimming Mullet (white and chartruse colors.)
Follow this link to see: Berkley Gulp Swimming Mullet on Amazon.com
---
About Berkley Gulp Baitfish Imitations
Berkley Gulp Baitfish Imitations are like soft plastic lures, but impregnated with a fish attracting scent. These artificial baits come in numerous different versions and sizes. Many fishermen claim that they work as-good-as, or better than, real baitfish.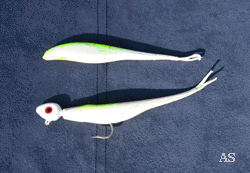 Jerk Shad and
Jerk Shad on a Jighead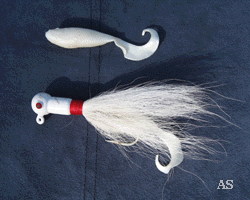 Swimming Mullet
and Swimming Mullet
Trailer on a Bucktail
The Jerk Shad, Swimming Mullet and Sand Eels shown above are all very good for striped bass.
A good way to fish these lures is to slip them on a lead jighead as shown on the right. A favorite jerk shad color is chartrues pepper neon (shown.)
These lures make great trailers on a bucktail, also shown on the right. This is like scented curlytail.
If you are in a boat drift or jig, they won't swim like a live baitfish.
Berkley Gulp lures are also outstanding for catching fluke. A great rig for fluke is to slide them on a hook that is on a dropper loop about 15 inches above a bank sinker. This should work for stripers also.
A word of caution. When you are done fishing take the gulp lure off your hook. If you leave it out in the air, it will dry and become hard as rock.
The Tackle & Bait Shops are now
stocking a wide range of Berkley Gulp baitfish imitations. Give them a try.
Follow this link to see more: Berkley Gulp Bait
on Amazon.com
---
Berkley Gulp Alive Spray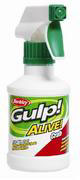 Berkley Gulp
Alive Spray
Berkley also makes a fish attracting scent called "Gulp Alive" that you can spray on your lures. Gulp Alive now comes in a spray bottle. You can spray it on your lures before you cast them. Berkley claims the scent and flavor disperses into the water 400 times more than plain plastic baits.
Follow this link to see: Berkley Gulp Alive Spray on Amazon.com
---
BioEdge
BioEdge also makes fish attracting scents that an be sprayed on, or rubbed on, fishing lures. To see about BioEdge fish attracting scents follow this link: BioEdge.
---