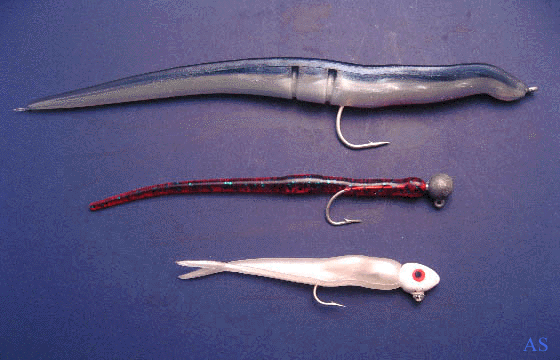 There are many soft plastic lures that are effective in catching striped bass. Soft Plastic lures come in lots of styles and sizes. Stripers love them. Shown above are the Slug-Go, the Pencil Worm, and the Fin-S Fish.
Follow this link to see: Soft Plastic Fishing Lures
on Amazon.com
About Soft Plastic Fishing Lures
Worms and Eels
If you fish for large-mouth bass in fresh water, the single most effective lure is a purple rubber worm. In saltwater these also work for striped bass, but a longer version is often used called a pencil worm. These can be fished without weight if you don't have to cast very far to reach fishable water. Slide them on an offset worm hook, texas style, to make the rig weedless. As unweighted plastic worms slowly sink and are jostled around by the current, bass can't resist them. If you have to cast further, slip them on a jighead. The jighead lets you cast them further, but you may have to impart some of the action during the retrieve.
There are larger plastic worm-type lures that look more like real eels. The Slug-Go is a prime example. Fish it the same way, with or without a jighead, depending on how far you have to cast.
Baitfish
Soft plastic baitfish come in all sizes and many colors. Determine what baitfish are around and choose a size and color to match. Fishing them unweighed using an offset worm hook is also a good choice for soft plastic baitfish, as a more natural presentation can be achieved. However if you have to cast further slide them on a jighead. Choose a jighead to also match the size of the baitfish you are trying to imitate. Usually the smaller the better. Most soft plastic baitfish imitations, like the Fin-S Fish, have forked tails that give them some swimming action.
Another very good soft plastic lure is the Zoom Super Fluke, both pearl white and pink are good.. This lure is effective in catching striped bass, freshwater striped bass, hybrid striped bass, and largemouth bass.
More recently soft plastics made by Berkley, and others, look just like the more conventional soft plastics, but also emit a baitfish odor in the water. The Berkley Gulp Swimming Mullet and Jerk Shad are especially good.
To see more about scented soft plastic lures follow this link: Scented Soft Plastic Lures.
Wide Gap Weighted Hooks for Soft Plastic Lures

Another option for rigging soft plastic lures is to use a wide gap weighted hook like the "Owner Beast Hook with Twistlock" shown above. This rig is weedless, and the hook's wide gap allows for improved hook sets. The non-movable weight is positioned so low on the hook shank that it acts like a keel, and tends to orient the lure in a natural swim position and prevent tumbling.
Follow this link to see: Owner Beast Hook with Twistlock on Amazon.com
---